ELLA

Acrobatics
Acrobalance
Juggling
Staff
Fire Staff

DAVID

Acrobatics
Acrobalance
Juggling
Stiltwalking
Balloon Modelling
TABRA
Tabra presents a visual feast of images in motion, skill and strength unite to create a stunning display.
It can be utilised as the main focus of an event, as (ultra violet) statues or as a compliment to other performance/multi-media presentations.
They also offer beginners workshops in tumbling and balancing.
These provide the opportunity for adults or children to explore their awareness of movement and flexibility. They also help to develop teamwork skills and trust of others. These sessions are typically 1 - 1.5 hours.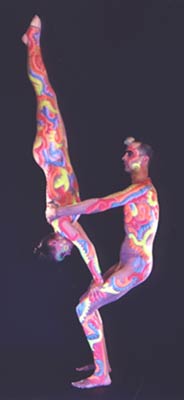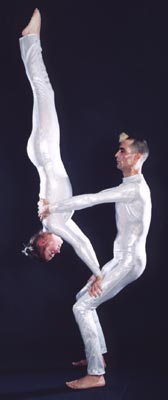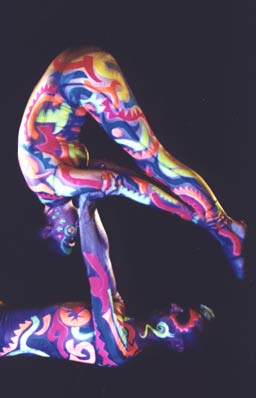 Technical Requirements.
Changing room/warm up space with 2 litres of bottled water.
Audio source - preferably with Mini Disc connection
3.5 metres of height
1.5 metres x 3 metres stage space (minimum)

The information on this page is out of date. Please go to Tabra for up to date details of what they offer

For a complimentary copy of my PDF file "A guideline to the various types of entertainment available to book for your event" Click this link
To book Dave or Ella, or Tabra,
or for further information, contact:
Chris Ehrenzeller
Aurora's Carnival
166 Dale Road
Matlock Bath
Derbyshire
DE4 3PS
Mobile: 07710 788671