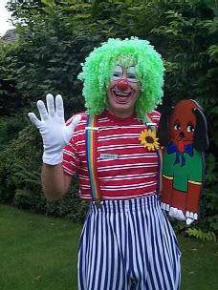 Giggles the Clown is from Glasgow and provides a wide range of Birthday entertainment for children.

While every Children's Birthday Party is unique, Mr Giggles the Clown has evolved a
winning formula for one or two hours of fun, games, laughter, music and magic.

All the children are immediately immersed in the excitement of a top class 60 minute
Professional Magic Show where the children actually do the magic. Mr Giggles just
happens to be there to make sure it happens!!!

Included are carefully supervised games, dances, quizzes and competitions with that
special Mr Giggles touch guaranteed to raise much laughter and excitement which will
be remembered in the days ahead long after the party is finished.

A typical Kids Birthday Party consists of magic, puppets (they really do look real,
even to adults), plate spinning / juggling, music, games with balloon models,
colouring in posters and sweets being available as small prizes.

And of course YOUR CHILD is the STAR as demonstrated throughout the show and there is
a special spot where your child actually produces his or her very own birthday present in a
most magical way which leaves the birthday party friends amazed that they could do
such great magic. At the end of the show all the children receive a small gift to
take home in their goody bags.