Quercus Metallicus is a Tim Burton-esque, 'Night Before Christmas' style giant, metallic, interactive tree which would be a perfect addition to any Christmas, Halloween or Bonfire Night event that wanted something totally different.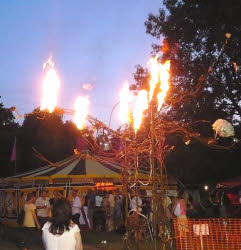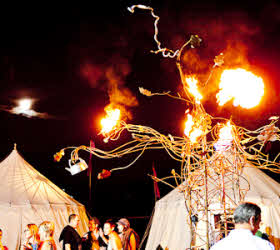 It blows jets of fire from the crown and branches, dry ice seeps from the top and it is covered in twinkling LED's and lanterns.

Formed from nearly 200metres of twisted steel and copper pipe it takes the form of a fantasy oak tree standing 3.5metres tall and 6 metres wide between the branches. With oversized roots and warped limbs it looks ready to walk off at any moment.

The eight giant branches end in a variety of items: shower heads, kettles, brass bugles and trumpets, taps and leaves, all of which can be manipulated by spectators or, in the case of the fire effects, by the performer/artist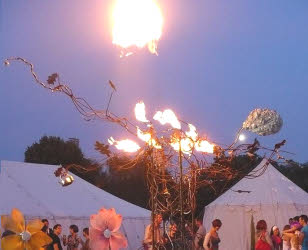 .

Fire Effects
In addition, the trunk of the tree contains four giant pipes through which propane gas can be channelled for a fiery evening spectacle.

Pilot lights of approximately 1ft in height flicker like candles from the pipes and from various brass instruments on the branches.

Electric valves are then operated remotely by the controller to surprise the public with fiery jets, shot upwards into the sky. Ranging in height from 3ft to over 10 ft these momentarily illuminate the twisted steel and orange copper of the tree and as they do so the flames emit a variety of unusual shrieks, hisses and booms. In fact many people have likened it to a giant, very hot and visual, drum machine.

To accompany this twilight spectacle dry ice is pumped up and out of the crown of the tree, drifting eerily around the branches. The limbs are strung with twinkling lanterns and hundreds of tiny LED's glimmer from within the twisted steel.