Cheeko the Clown is based in Scotland and provides entertainment, largely for children, around the country.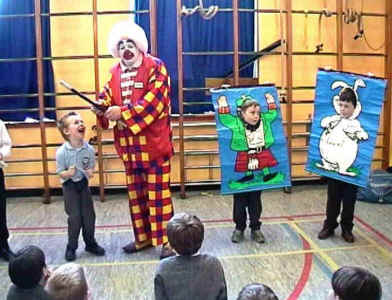 The Show

Cheeko's show is a family show in a very pantomime style and can be tailored to fit
the largest of theatres or the smallest living room. The show is completely self
contained in fact even Cheeko himself packs flat for easy storage and is completely
interactive as audience participation is a top priority. Cheeko is mobile and can work
anywhere in Scotland or further afield if need be.

Birthday Parties

In Cheeko's popular birthday party show the birthday person is involved in helping at
the very beginning of the show and also at the end of the show when Cheeko gets them
up from the audience to to help him with some magic that goes comically wrong and
manages to produce lots of sweets instead.

Outdoor Events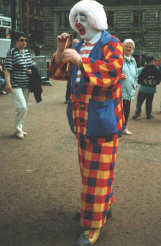 Cheeko The Clown is pictured here performing in George Square, Glasgow along
with some members of the Caledonian Clowns Club. Cheeko had great fun clowning around
with the audience and working with the other clowns. Cheeko can play his act big or
small which makes him perfect for outdoor events and for those events in the middle of
nowhere. Cheeko's van is equipped to run his P.A. system all Cheeko asks is to be
situated away from extraneous noise such as the main arena, fairgrounds, and discos
To book Cheeko,
or for further information, contact:
Chris Ehrenzeller
Aurora's Carnival
166 Dale Road
Matlock Bath
Derbyshire
DE4 3PS
Mobile: 07710 788671

Clowns and children's entertainers are available around the country:- England....Bath, Birmingham, Bradford, Brighton & Hove, Bristol,
Carlisle, Cambridge, Canterbury, Chester, Chichester, Coventry, Derby, Durham, Ely, Exeter, Gloucester,
Hereford, Kingston-upon-Hull, Lancaster, Leeds, Leicester, Lichfield, Lincoln,, Liverpool, London, Manchester,
Newcastle-upon-Tyne, Norwich, Nottingham, Oxford, Peterborough, Plymouth, Portsmouth, Preston, Ripon, Salford, Salisbury, Sheffield, Southampton, St Albans, Stoke-on-Trent, Sunderland, Truro, Wakefield, Wells, Westminster, Winchester
Wolverhampton, Worcester, York.
Wales...Bangor, Cardiff, Newport, St David's, Swansea.
Scotland...Aberdeen, Dundee, Edinburgh, Glasgow, Inverness, Stirling and all towns and villages in between.

Bedfordshire, Berkshire, Buckinghamshire, Cambridgeshire, Cheshire, Cornwall, Cumbria, Derbyshire, Devon, Dorset, Durham,
East Riding, East Sussex, East Yorkshire, Essex, Gloucestershire, Greater London, Hampshire, Hertfordshire, Huntingdonshire,
Kent, Lancashire, Leicestershire, Lincolnshire, Merseyside, Middlesex, Norfolk, Northamptonshire, Northumberland, Nottinghamshire,
Oxfordshire, Rutland, Shropshire, Somerset, South Yorkshire, Staffordshire, Suffolk, Surrey, Tyne and Wear, Warwickshire,
Westmorland, Wiltshire, Worcestershire, West Sussex, West Yorkshire


Anglesey, Blaenau Gwent, Bridgend, Cardiff, Caerphilly, Carmarthenshire, Cerdigion, Conwy, Denbighshire, Flintshire
Gwynedd, Merthyr Tydfil, Monmouthshire, Neath Port Talbot, Newport, Pembrokeshire, Powys, Rhondda Cynon Taff
Swansea, The Vale of Glamorgan, Torfaen, Wrexham

JOIN the National Association of Business Owners. Go to http://www.nabo-members.com.
Type Aurora's Carnival in the "I was refered by......" column.