This act os no longer performing, but I have many more magicians avaiolable around the country.
See Magicians for some more ideas.
The Bamboozle Brothers are particularly suitable for large functions.

These Magic Circle magicians will perform stunning tricks to delight your guests and ensure that their evening is special and memorable.

For first-class, close-up, walkabout magic at hotels, restaurants, corporate functions, balls and universities.......there is only one name to conjure with.........

The Bamboozle Brothers!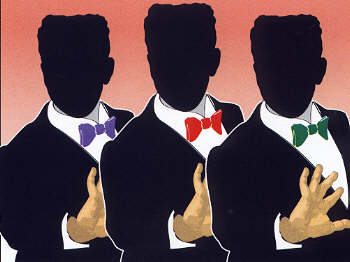 CLICK TO RETURN TO Aurora's Carnival HOME PAGE
To book The Bamboozle Brothers,
or for further information, contact:
Chris Ehrenzeller
Aurora's Carnival
166 Dale Road
Matlock Bath
Derbyshire
DE4 3PS

Mobile: 07710 788671

JOIN the National Association of Business Owners. Go to http://www.nabo-members.com.


Type Aurora's Carnival in the "I was refered by......" column.
Magicians are available around the country:- England....Bath, Birmingham, Bradford, Brighton & Hove, Bristol,
Carlisle, Cambridge, Canterbury, Chester, Chichester, Coventry, Derby, Durham, Ely, Exeter, Gloucester,
Hereford, Kingston-upon-Hull, Lancaster, Leeds, Leicester, Lichfield, Lincoln,, Liverpool, London, Manchester,
Newcastle-upon-Tyne, Norwich, Nottingham, Oxford, Peterborough, Plymouth, Portsmouth, Preston, Ripon, Salford, Salisbury, Sheffield, Southampton, St Albans, Stoke-on-Trent, Sunderland, Truro, Wakefield, Wells, Westminster, Winchester
Wolverhampton, Worcester, York.
Wales...Bangor, Cardiff, Newport, St David's, Swansea.
Scotland...Aberdeen, Dundee, Edinburgh, Glasgow, Inverness, Stirling and all towns and villages in between.

Bedfordshire, Berkshire, Buckinghamshire, Cambridgeshire, Cheshire, Cornwall, Cumbria, Derbyshire, Devon, Dorset, Durham,
East Riding, East Sussex, East Yorkshire, Essex, Gloucestershire, Greater London, Hampshire, Hertfordshire, Huntingdonshire,
Kent, Lancashire, Leicestershire, Lincolnshire, Merseyside, Middlesex, Norfolk, Northamptonshire, Northumberland, Nottinghamshire,
Oxfordshire, Rutland, Shropshire, Somerset, South Yorkshire, Staffordshire, Suffolk, Surrey, Tyne and Wear, Warwickshire,
Westmorland, Wiltshire, Worcestershire, West Sussex, West Yorkshire


Anglesey, Blaenau Gwent, Bridgend, Cardiff, Caerphilly, Carmarthenshire, Cerdigion, Conwy, Denbighshire, Flintshire
Gwynedd, Merthyr Tydfil, Monmouthshire, Neath Port Talbot, Newport, Pembrokeshire, Powys, Rhondda Cynon Taff
Swansea, The Vale of Glamorgan, Torfaen, Wrexham