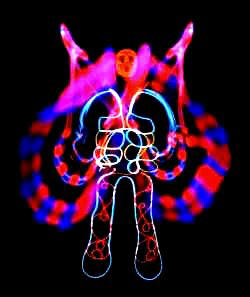 Glow Performances
If you require a dazzling display in a darkened area and are unsure as to the suitability of a Fire show to your event this option cannot be beaten. There are none of the special precautions that have to be undertaken when using pyrotechnics, no dangerous and messy substances are used, and of course these shows are easily undertaken indoors or in confined areas. (Having said this, we can, of course, integrate our Light and Fire shows to create a really devastating effect!)

Our performers work together to create highly skilled juggling routines for stage. These involve balls, clubs, poi, staff and other illuminated objects. They can also be set as an installation, a futuristic tableau and very interesting talking point or they can wander through your guests, impressing as they go. They will light up any evening or night time function and are perfect for clubs, parties, late night shopping or any location that you need lighting up!

Powered by battery and utilising large quantities of "Surelight" electro-luminescent wire these suits are incredibly bright and do not need total darkness to be impressive, even in a normally lit room they are stunning. Performances can last for up to 2 hours before a battery change is required. Spares are carried as we realise that reliability is an absolute necessity to our performance.