| | |
| --- | --- |
| | MISS TRIXSTA |
Miss Trixsta, (UK) - Stilt Walker .

Towering high above a crowded room at 8ft tall, Miss Trixsta offers a variety of colourful stilt
characters which add glamour and style to any event. Available to meet and greet and entertain your
guests; Miss Trixsta performs under a number of guises, and is able to tailor her various costumes
to suit the theme of any event.

Take your pick from Miss Trixsta's lavish selection of stilt costumes or ground based characters to
bring a lot of life; colour and glitz to your party. These include a Carnival Queen; Cabaret Girl;
Egyptian Princess; Showgirl; 60's/70's Disco Diva; Fiery She-Devil; Winged Creature;
Futuristic Cyber babe; Bubbly Fairy; Mrs Claus; and Nurse to name but a few!

Balloon modelling puts a smile on kids and adults faces alike, bringing colour and laughter to any occasion.
Miss Trixsta can create a wonderful selection of balloons ranging from flowers; animals; wands; and swords
to games; amazing hats and other dazzling adornments. All this can be done whilst on stilts or on the
ground.
A selection of Miss Trixsta's Characters.






Miss Trixsta, (UK) - Fire Performer .

Miss Trixsta is a talented fire performer who specialises in dancing with fire chains; fire fingers
and staff. She also performs fakir (body burning) and fire-eating and can customise her show, music
and costume to suit any event. She is available on her own, or with one to three other performers
presenting a choreographed stage show and/or "meet and greet" fire. Two of the current acts are a Cabaret
fire show and a Taste of the East - a show incorporating fire and belly dancing. If fire is not appropriate
for your venue, Miss Trixsta can perform a UV glow show making use of vibrant glow equipment,
flags and ribbons which fluoresce brilliantly under UV lighting.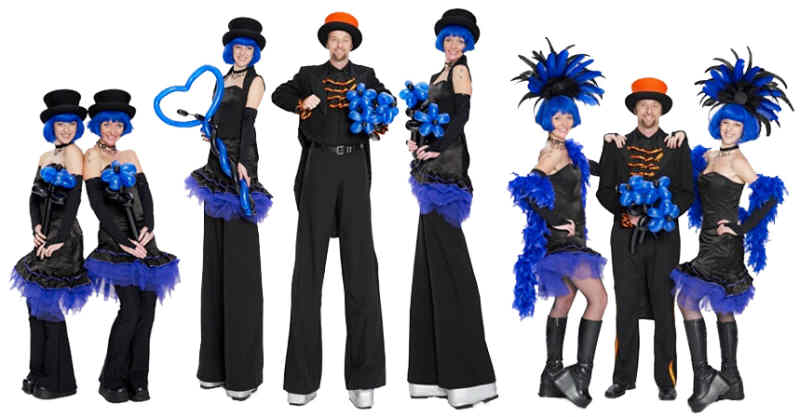 Miss Trixsta is also a member of a group called 'Balloon-a-luscious' concentrating
mainly on balloon modelling. A few examples are Caricatures, balloon outfits
and a wide range of better than the usual balloon animals, hats etc. They
wear smart costumes aimed at corporate events and table side balloon
modelling; but can be adapted to suit your more informal events.
Available either ground based or on stilts.
For a complimentary copy of my PDF file "A guideline to the various types of entertainment available to book for your event" Click this link.
To book Miss Trixsta,
or for further information, contact:
Chris Ehrenzeller
Aurora's Carnival
166 Dale Road
Matlock bath
Matlock
Derbyshire
DE4 3PS

Mobile: 07710 788671